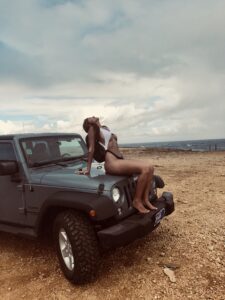 THINGS TO DO 
Since Aruba is an island, most of its tourism relies on their beaches and water activities. We traveled in early December (which is the start of the island's peak travel season) and stayed three days at the Caribbean Palm Village Resort and two days at the Renaissance Aruba Resort & Casino. Here's some of the things we did while we were in Aruba: 
HAPPY HOUR YACHT CRUISE 
The best way to see the turquoise waters of Aruba is to go on a cruise! There are dozens of options to choose from and they're all fairly priced. We used Mi Dushi Cruises to book our day trip on the water, which included a Caribbean lunch (there's a pescatarian option, don't worry) and an open bar throughout the ride. Our cruise stopped at a few locations that allowed us to snorkel as well! So, if you were planning on doing some snorkeling in Aruba, might as well make a trip out of it and enjoy a morning, midday or evening cruise while you're at it. 
VISIT FLAMINGO BEACH 
Here's why we stayed at two resorts. We booked the Renaissance Aruba Resort & Casino mainly because all hotel guests have free access to their private island where Flamingo Beach is located. Their boat shuttle docks right inside the hotel lobby and takes you to Flamingo Beach all day long. If you'd like to visit but are not hotel guests, you can purchase a $99 per person pass that would grant you access to the private island. The island is divided into Iguana Beach (kid friendly) and Flamingo Beach (adults only). If you want to see some iguanas, they are near the entrance munching on some lettuce on the Iguana Beach side. The tourist hotspot is Flamingo Beach, however, where a herd of flamingos reside on the island. This is a must see, if it's your first trip to Aruba, but get there early because it does get a bit crowded. 
EXPLORE ARIKOK NATIONAL PARK 
The national park is comprised of rocky terrain and cacti on every side of the dirt roads. However, the park allows access to the coast where some beautiful natural pools are located. On our third day in Aruba, Sonya and Aida and I rented a Jeep Wrangler, which allowed us access to the 4×4 trails that leads straight to the coast. (We used Hertz, which is conveniently located at the airport.) The park is $11 per person for the entire day. I'd recommend eating beforehand or bringing your own lunch even though there are two restaurants/eateries on site. You can get hungry quickly and the restaurants are pretty far depending on which part of the park you are at. 
BEST BEACH?
We visited Palm Beach, Eagle Beach, Noord, Oranjestad and every little beach in between during our extended weekend stay. They all pretty much have the same thing — white sand and beautiful, blue waters. We liked Palm Beach the most since there were so many nearby restaurants and eateries right along the beach's boardwalk. Eagle Beach is supposed to be one of the most beautiful beaches in the Caribbean so we checked it out as well. No matter which one you go to, they are all Instagram-worthy beaches.
NIGHTLIFE IN ARUBA 
Let's be honest, if you're a millennial this is probably the most important part of this post. Let's not waste time and break down exactly which clubs you should check out.
Gusto Night Club – This nightclub was recommended by a local. They mentioned that Gusto gets pretty crowded on the weekends and is always a good time. By the time we arrived, the dance floor was lively and filled with mostly 20-30 year olds. There is a cover charge, but Aida was able to talk them down from $10 to $5. The drinks are great and there is an upstairs VIP section as well.
Brickell Bay Sand Beach Lounge – We liked the atmosphere here the best. The lounge includes a busy dance floor and great live DJ with bar and hookah options. The music was mainly Latin and Top 40 on the night that we went. Drink prices are average. This is where we started my birthday night, and we were not disappointed.
Hotshotz – This location was also recommended by a local. It is in Oranjestad and is great if you're looking for a nice mix of Latin, reggae, pop and hip-hop. This was probably the most crowded club in Aruba. The drinks here are also VERY cheap! It's where the locals go.
Kukoo Kunuku –  Kukoo Kunuku is a party bus that stops at 4 bars and picks/drops you off from your hotel. We did not do this but met people who did and they loved it. They praised it so much I had to add it to this list.  You can go with a group or solo and make friends from any age group. Ages 20-60+ have enjoyed this party bus, sadly we didn't have time to hop aboard ourselves. Bonus: you also get free drinks or shots depending on the package you take! 
RESTAURANTS 
Renaissance Marketplace – This complex offers different eating options. This includes Italian/Pizzeria (Casa Tua), breakfast/brunch (The Dutch Pancakehouse), and sushi (Sushi-ya). If you're looking for American options, they also offer Dunkin Donuts, Starbucks, and Subway. I encourage you to try Casa Tua. They offer a variety of entrees and are reasonably priced.
Local Store – We stumbled across this restaurant/bar accidentally. The food is very flavorful and the Aruban 'Funchi Fries' were interesting and different. They're like regular fries but made with cornmeal and highly recommended by our server. We enjoyed our meals, and their drinks are very strong. I had the jalapeño burger and it was the right amount of spicy. Their wings are also worth trying, it's what they're known for.
The Old Cunucu House – We asked around to try and find local Aruban cuisine and multiple locals directed us to this restaurant. If you're looking for some authentic Aruban food, this is the place for you. Since Aruba is a tropical island, most of their signature dishes are seafood.
Barney's Bar & Restaurant – Barney's is a casual bar and grill establishment. It's fun and lively so be prepared to talk a little louder during dinner. We also found this place by exploring Noord. Their steaks are good, and with the side dishes you get a lot for your money.
Pinchos Grill and Bar – This spot is perfect if you're looking for a romantic dinner, especially if you come at sunset! Taste and opinions are subjective, but I think they have the best food in all of Aruba (from what I've tried). If you get a chance, go try Pinchos and see for yourself.
Matthew's Beachside Restaurant – It's a beachside joint with great seafood! The food is very tasty and cooked fresh, how could you go wrong? If you're thinking about getting some seafood in Aruba, we recommend Matthew's.
The Screaming Eagle – If you have a bigger budget definitely check this place out. Beyond its fine dining and great wine you can request a lounge bed to eat at if you're into aesthetics. This place is very beautiful and picturesque!