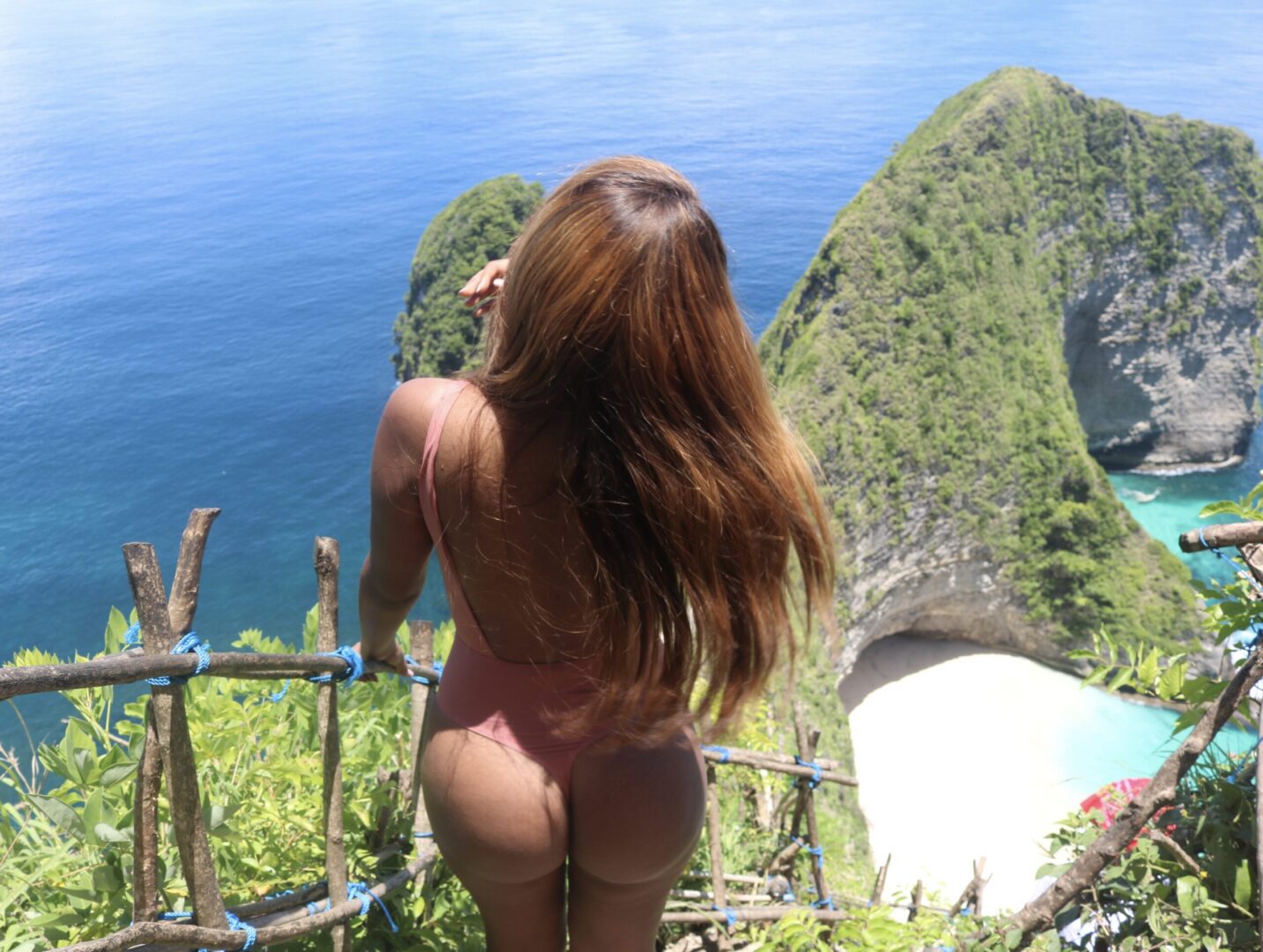 During our travels to Asia, my friends and I decided we would stay longer and visit Bali! I'm so glad we did because so far, it is one of my favorite travel destinations. Just off the coast of Bali, Nusa Penida and two other smaller islands (Nusa Lembongan and Nusa Ceningan) host some of the most beautiful natural sights for you to visit and explore. 
Ubud
The first place I have to mention in Bali is Ubud. A two hour drive from the airport, Ubud is a nature lover's dream come true.
Kamandalu Resort / Floating Breakfast
We began our first official day with breakfast at Kamadalu Resort. We had to make reservations in advance and it is a bit more expensive if you're budget traveling, but the experience is 100% worth it. Breakfast is served on a floating tray in one of their infinity pools overlooking the forest. If you don't want to stay at the resort, there is a breakfast only option where you can visit just for breakfast alone. It includes a delicious spread for two and a bottle of champagne!
Tegalalang Rice Terrace
Throughout Bali, you will see many rice fields and terraces. But if you're visiting, make sure to check out the fields in Tegalalang, which hosts one of the biggest and most beautiful terraces in the country.
Be ready for some steep hills and inclines on your way down. By now, you know I'm notorious for facing these adventures in flip flops and the rice fields were no different. I recommend some Nike trainers for a better hike. Bring bug spray because we were all eaten alive by the mosquitos out there!! Side note: Be careful of women and children at the entrance and along the fields trying to sell you things. The rule is: if you touch it, you buy it. So look but don't touch.
Bali Swing
The famous Bali swing might seem intimidating if you're scared of heights, but I promise it is not as scary as it looks. After you swing, they provide you homemade teas and coffees that they grow on the land beside the swing.
Mason Elephant Lodge
Since we didn't get a chance to see any elephants in Thailand, we decided to take a little trip to Mason Elephant Lodge and Park to see some. Unfortunately, they did have some packages that allowed you to ride the elephants. Guys, do note that elephants are NOT meant for riding. It actually injures and breaks their spines when you do.
Waterfalls in Ubud
There are so many waterfalls, I have to go back and try and see them all. Here's a list of some of the best waterfalls in the Ubud area:
Tukad Cepung Waterfall – If you go at the right time, the waterfall is in a cave with a single stream of sunlight shining down. It's truly magical!

Banyumala Twin Waterfalls – These twin waterfalls have the best waters for swimming in at the base.

Aling-Aling Waterfall – There are 4 waterfalls at this site. If you're brave enough, you can slide down them!

Tegenungan Waterfall – This is one of the most popular waterfalls in Bali. The water at the base is more shallow, so it's easier to take pictures close by.
KUTA & SEMINYAK
If you're a millennial looking for some extravagant nightlife, visit Seminyak. These luxury nightclubs are made for drinking and dining under the sunset.
Potato Head Beach Club – This spot is more on the upscale side. If you're into people watching, this is your spot. It is one of the best places to witness the sunset in Bali! It also has an infinity pool with a swim up bar.
Ku De Ta – Another upscale venue, this nightclub also has a restaurant section that features Asian and European dishes. It's one of the most well known clubs in Bali, so it usually stays busy on the weekends.
If you're feeling lit and want something less upscale and glamorous, then Kuta is the place for you. Just wandering around aimlessly, you'll be sure to find music pumping and drinks flowing here.
Sky Garden Bali – This insane club has 4 levels filled with likeminded millennials. Each floor has different music, a genre for every taste. There is a 250K cover charge (about $20 USD) but it includes two free drinks. During some promotions, ladies are free before 11pm. The atmosphere and party vibe makes the expensive drinks worth it.