Thailand has become a top travel destination for backpackers, tourists, and travelers all over the world. I'm sure by now you've seen many videos across Facebook, Twitter or throughout the inter webs telling you how cheap it is to live in Thailand. Yes, Thailand is much cheaper than the cost of living in the US or Canada, but if you're going for more than a weekend trip, make sure you have enough spending money. Tourism is booming and things are not as cheap as they once were. Still, with our group of 7, we managed to experience as much we could in our two weeks there.
Our adventure began in Bangkok. The first few days, we explored the famous floating markets, Sky Bar, and the Grand Palace. (Important tip: if you're going to the floating markets, be sure and go early since everything ends after 2pm for the most part.) I wish we knew this ahead of time before we got caught up in the infinity pool at Amara Hotel.
Imagine going out Tuesday night for my birthday dinner and getting back around midnight. Then, instead of sleeping, we stayed up to watch the sunrise in the infinity pool. After a few hours splashing around, we went to brunch in the hotel (which was not like those crappy continental breakfasts most hotels provide). And by the time we went back to change and get ready — mind you, there are five girls in our group — the floating markets were pretty much over.
Our favorite part of Bangkok was strolling through Khaosan Road. Fruit carts, cheap clothing, whimsical toys, yummy kebabs, and those daredevil edible crickets and scorpions fill the street. There are also many restaurants and bars on the strip. There's even a McDonalds and Burger King for you Westerners who've had enough pad Thai (and yes you will get tired of noodles 24/7). As the sun set, hordes of people pass through preparing for the infamous weekends in Koh Pha Ngan.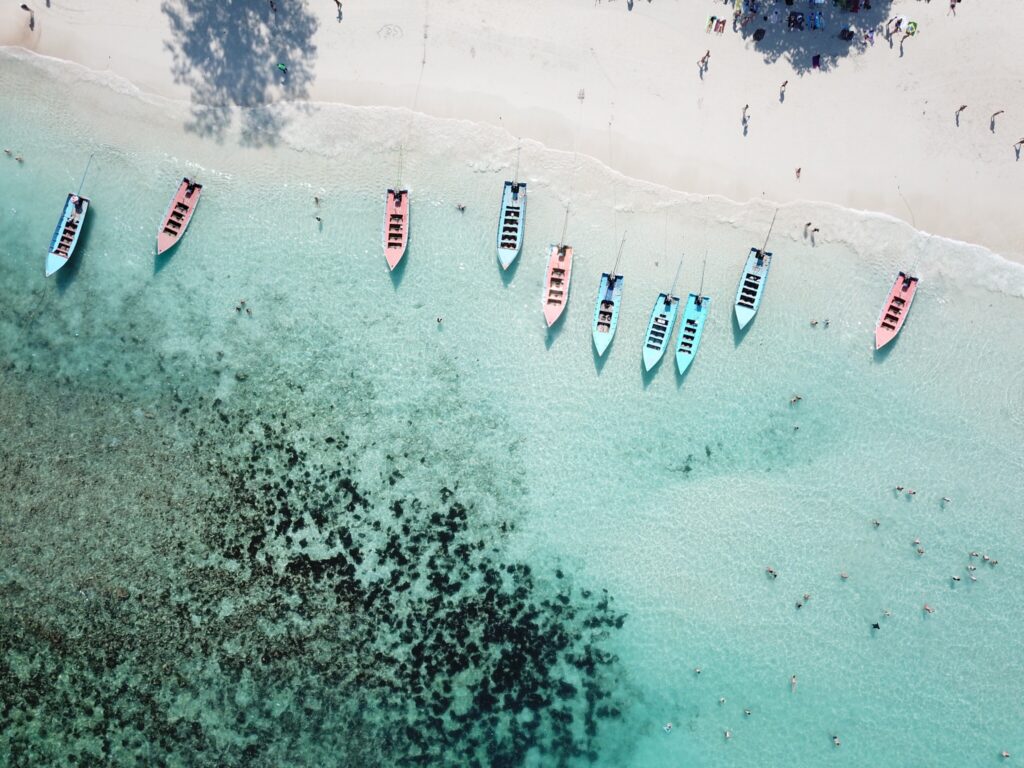 If you've done your research on Thailand, then you know the little island of Koh Pha Ngan is a millennial dream. The Full Moon Party hosts thousands of tourists every month for a weekend of nonstop fun. As soon as the sun sets, thousands of partygoers head down the side streets to Haad Rin Beach to gather for the night's festivities. Our large group dispersed and went on to do their own thing until eventually it was just the birthday girl Aida, Regina (aka my miniature-SZA), and me.
Similar to Khaosan Road in Bangkok, the streets are crowded with travelers—but instead of toys and clothing, the carts are selling buckets of alcohol for 150 Baht ($4.80 USD). Yes, you read that right—buckets! The buckets are filled with the alcohol and mixer of your choice. If you go to certain carts, you can even get free shots or glow in the dark paint.
DJs line the beach playing different genres from house and EDM to reggae and hip-hop. I kid you not, we walked down the beach and the songs transitioned from 24K Magic to Mambo No. 5 to Avicii's Levels. The beach is lit up with enflamed jump ropes and thousands of bodies dancing to LED lights. The party eventually died down around sunrise the next morning.
If you do wind up going to the Full Moon Party, do know there is usually a Jungle Party the night before. Our friends who had already been to Thailand recommended that we go and some even liked the Jungle Party more than the actual Full Moon Party. However, we ended up getting ready late and by the time we went outside to get a cab to the Jungle Party (it's literally that huge group of tourists in the jungle instead of the beach), it was shut down. I mean, the day of the Jungle Party was the last day of a religious Buddhist holiday, go figure. I recommend you play it by ear since entry is 600 Baht/20 USD. It worked out for us. Everyone returned and created their own Jungle Party on the beach instead.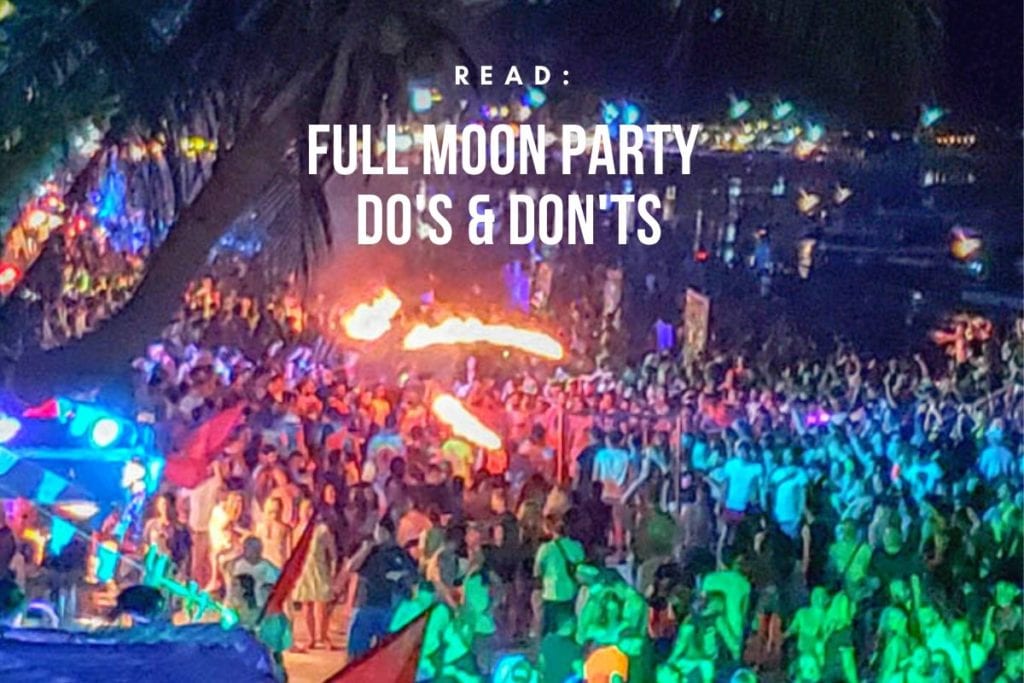 When you search pictures of Thailand online, Phuket's villas, beaches, and animal sanctuaries are some of the most iconic.
After the sun began to set on the Big Buddha, a few monkeys came out of the trees and began walking around the statue grounds. Getting caught up in the sights and the sunset, Regina and I were one of the last to leave. This was a big mistake.
Don't go to the Big Buddha without booking a roundtrip taxi. The sun finally set, the mosquitos were attacking, and the monkeys were making noises in the trees. I don't know who thought pairing Regina and I together was a good idea. Panic set in that we might be stranded with Big Buddha who sits atop a very large mountain with one way up and down. We asked the few people nearby with no luck, they had secured their own full rides. And to make matters worse, there is absolutely no service on that mountain.
A good 15 minutes later, a group of  women walked into the parking lot to get their taxi. We did our best to explain our situation and somehow hitched a ride down the mountain. Thank God for those women and their taxi. 
The rest of Phuket was less traumatic. If you visit this area of Thailand, I definitely recommend Patong Beach. It's wild nightlife makes sure there's always something to do. Our last day in Phuket, we visited the Tiger Sanctuary (even though Regina hates felines). Some people don't believe the sanctuary treats their animals right, but we thought the tigers were well looked after.
Our final adventures in Thailand included roaming through the Phi Phi Islands (which is pronounced like pee pee, to our surprise). Thailand's most beautiful beaches are in either Phuket or Koh Phi Phi. The famous beaches, wooden boats and mountainous rocks are usually photographed here. We took a tour with Phuket FantaSea Tours. They carried us to the famous beaches including Monkey Beach and Maya Bay.
We took a speedboat from Phuket to Phi Phi and the bumpy ride was an adventure in itself. We passed through Emerald Beach, where they have extremely beautiful green-blue waters. Sadly, there was no droning allowed on Maya Bay—yes there are officials with binoculars to fine you for flying your drone. We found a way to bypass this rule by droning from on the boat. I took one for the team and stayed behind to drone after the boat docked.